Fun Things to do in Milwaukee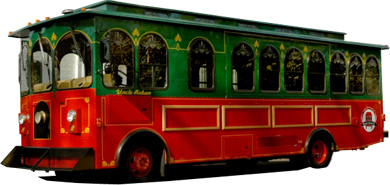 Looking for something fun to do in Milwaukee? Jones Travel has the solution for your "fun" travel needs. Our Trolley is a great alternative to the Party Bus. The trolley offers a cozy yet fun environment to add a little more fun and flare to your trip. Who wants to ride in a closed up bus, when you can experience the sights and sounds of Milwaukee from the inside of a trolley? Jones wants you have the most fun while traveling in style. Our bus rental Milwaukee trips will keep you coming back.
We offer transportation to the greater Milwaukee area. We can accommodate any size group. There are so many fun things to do and see in Milwaukee. You may need to plan a weekend to make sure you have enough time. A trip to Miller Park for the Brewers game would not be complete without the Famous Racing Sausages. Load up the guys on the trolley and make it a trip to remember. Ladies like to go shopping. Gather the girls and take a ride on the trolley into the city and spend the day visiting all the shops at Bayshore Towne Center. Load up the kids and take a trip to Milwaukee County Zoo. They will love the ride on the trolley where they can see everything that is going on around them.
Milwaukee has so much to offer. When you pair it with a relaxing and reliable ride with Jones Travel, it makes for the perfect getaway. You might be only looking for a day trip, or maybe you are wanting to take a long weekend vacation. No matter what your needs are, Jones can meet them. Give them a call today and get to planning your next charter trip to the exciting city of Milwaukee.
Sites to See in Milwaukee:
Milwaukee Public Museum
Harley-Davidson Museum
Discovery World at Pier Wisconsin
Milwaukee River Cruise Line
Charles Allis Art Museum
Betty Brinn Children's Museum
Lake Front Brewery
Miller Park
Schulz Aquatic Center